Top 5 Asian Festivals
|
Top 5 Asian Festivals
While many travelers head to Asia to soak up the exotic culture, wonderful islands or its amazing hospitality but there is another draw that you may not be able to resist when planning a holiday to Asia : its celebrated festivals. From India to Nepal, from Vietnam to Myanmar, these top 5 Asian stunning festivals may define your life time experience, especially for fun seekers :
Holi Festival, India

If you fancy color throwing, getting fun with locals in one of the biggest Hindu festivals then you should not miss the Holi festival. It is celebrated in 3 countries including India, Pakistan and Nepal.
The celebration kicks off with the lighting of bonfires, filled by dance and musical performance than the main activity takes place with colors, games. Holi ends with sweet exchanges and delicacies.
Festival time : March
Mud Festival, South Korea

Every summer, Oryeong welcomes millions of visitors who are ready to bath in mud and get dirty as fast as they expect. Participants can also buy some beauty products include mudpacks, mud shampoo and mud soap.
What also attract your eyes and ears are the exciting music of pop and hip hop dance followed by the stunning firework.
The concept of this mud festival was inspired in 1998 and remains one of the highlights for any trip to South Korea.
Lantern Festival, Taiwan

Across Asia you many find many lantern festival yet Taiwan festival holding in the Pingxi district is probably the most awarding one. There will be thousands of lantern to be released on air, making a sparkling night. It is a perfect place to delve into the romance of Asia, taking part in striking events.
The festival calls many Buddhists as it is part of the religion where people come to pray for good wishes and health.
Festival time : February
Water Festival, Myanmar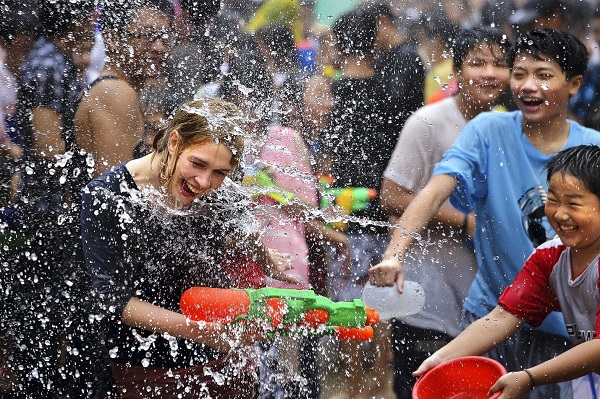 Not many festivals can beat the Thingyan Festival in Myanmar. It is no different whether you are local or foreign, this national wide event occurs from villages to city, mountain to beach with buckets of water ready to pour on you at any time. You will certainly get wet and you are allowed to make other wet – ready for fun.
Burmese are always eager to celebrate their new year and during this time delicious foods, pagodas festivals will delight any visit to their country.
Yangon Tour offers their special insightful tour during the festive time so you can thoroughly understand the way of life.
Water Festival is also celebrated in Laos, Thailand and Cambodia as the remarkable time for the coming of monsoon season.
Festival time : April
Tet festival, Vietnam

For Vietnamese, Tet is the most important time for family and friends. It is very interesting to witness local people preparing the festival. During this period, markets are full of peach flowers, food and colorful trees symbolizing for luck, happiness and best wishes.
We suggest you to mingle with a village family to know deeper their unique tradition, cultural taboo and being invited for meals wherever you stop.
Festival time : Jan or February ( January lunar calendar )
[userpro template=postsbyuser user=author postsbyuser_num=4]