7 Risk-free Ways to Change Your Look
|
7 Risk-free Ways to Change Your Look
A recent quote by a famous celebrity caught my eye recently. It read: "Your looks can't change your personality, but your personality can definitely change your look." Men do hate to admit the fact, but looks matter a lot and so does personality. This is the reason, why changing your personal style quotient and look becomes inevitable from time-to-time. Admit it! Every one of you must have felt the need for a change at some point in time, but the fear of making a fool of yourself stopped you. The truth is you need not change your entire wardrobe. Just making a difference in the way you carry yourself will bring about a lot of difference in your overall personality.
Is the risk of 'going wrong' bothering you? Do not let that fear restrict you from trying something new. Here are 7 risk-free tips that can effortlessly get you some extra attention without actually altering your personal self. Check them out.
1. Wear tailored clothes
Has this thought ever crossed your mind? "Why do celebrities look better than me even if they wear the same type of shirt and suit?"  Well, the answer lies in the way you carry your style. There is nothing wrong in the kind of clothes that you are wearing. You just need to take a bit of care in the presentation part. A closer fitting shirt is effortlessly stylish than the one that does not fit well. So, you need not revamp the entire wardrobe. Just rejuvenate your collection by getting them tailored according to your physique.
2. Get some shirts with patterns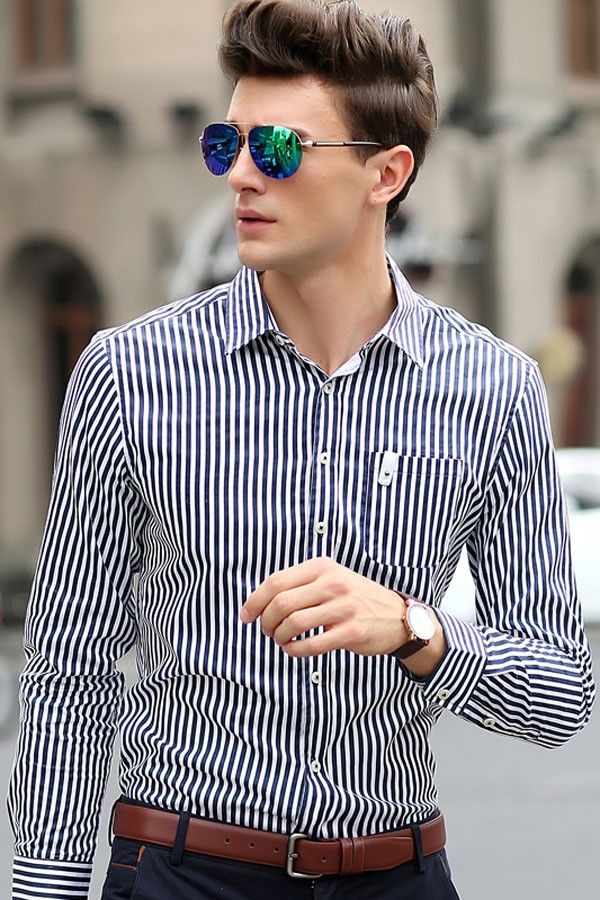 Are you obsessed with the shirts with solid colours? Well, I'm not asking to change your style from formal to casual or from elegant to funky. Just a slight alteration in the patterns you've been wearing till date will do the magic. Ditch the solid shades for the time being and try the stripe patterns. This is one style that will never go out of fashion and can blend with all sorts of personality. So, try something of this sort and it'll bring about a lot of changes in your look without going over the board.
3. Choose the right ensemble
Unlike women, men are more focused on the attire. Little is known about the fact that the accessories that you pair it with are equally a statement maker. Another thing that needs consideration is that the ensemble should be chosen according to the occasion. Go with the subtle and elegant ones for the formal occasions. While it can be a bit jazzy for the casual occasions. Right from the cufflinks to the shoes, everything should match the attire that you are wearing. Wear an elegant timepiece and you'll set a classic statement. You must be having a pair of glasses, but if you think that it's not good enough to adorn your look, then, you need a change. Perhaps the frame does not compliment the shape of your face. Wear a pair that suits your face and you'll see the difference.
4. Hairstyle
A hairstyle is not just a judging criteria of the ladies, but for the gentleman as well. There are different hairstyle cuts for different facial types. This applies to both genders. So, do not underestimate the ultimate power of good hair. Seek the help of an expert and make sure that the way your do your hair suits your personality. There's nothing wrong with using hair products that accentuate your overall look. You can try a spray that reflects more light.
5. Get in shape
As mentioned above, it's your personality that determines your overall look. So, the best way to define your personality is by getting into shape. Start working out or at least go for morning walks or jogs. You need not build the extra fat, but just kill the extra fat. A healthy lifestyle will definitely reflect on your face. Even meditating for an hour in the morning will add a lot of spark on your face. A man who's fit and healthy will automatically have an edge over his counterparts. Along with physical activities, a healthy diet regime always helps.
6. Consider the underneath fashion
Undergarment fashion is one of the most underrated aspects in this regard. The undergarment, especially the men's underwear that you're wearing contributes a lot to your style. Instead of the flat-fronted underwear, try something like men's padded underwear. This will enhance the visibility of the front profile of the wearer and will boost your self-confidence.
7. Take self-grooming seriously
Just waking in the morning and applying a lot of deodorant is not enough. Cleanliness is one of the important aspect of fashion these days. Keep yourself fresh and wear clean clothes. Bathe well, trim your beards properly. The stubble should not appear fussy and untidy. The footwear is a deciding factor. No matter which shoes you're choosing, it should be clean and well-polished.
Are you ready to redefine your style? Do leave us a comment below.
[userpro template=postsbyuser user=author postsbyuser_num=4]